The most popular Lladro figurines people search for are ballerinas. (See out prior analysis of the ten most popular Lladro searches.)
With that in mind, lets take a look at some of the ballet related art pieces Lladro has created.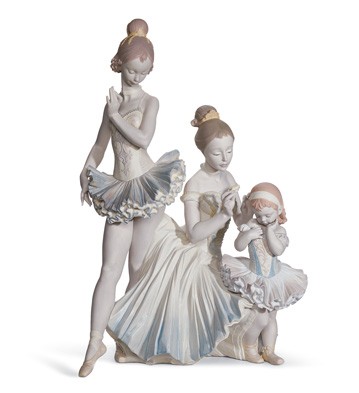 Love For Ballet is a massive piece selling for the astounding price of $11,000. Only 500 will ever be made. It is an exclusive among rare Lladro pieces.
Designed in 2004 by sculptor Juan Carlos Ferri Herrero, Love For Ballet is a huge thirty-two inches high and twenty-two inches side.
The piece features three figures: a mother and her two daughters dressed in their ballet outfits. Mom is putting the finishing touches on her little one's hair.
It is a cute piece.
But $11,000 is not pocket change no matter how much you love the ballet.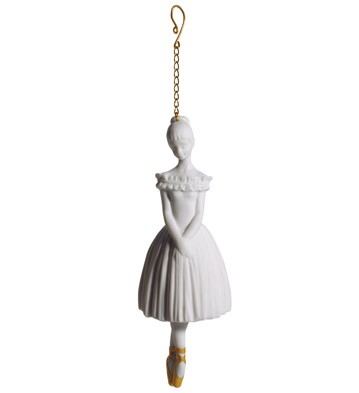 To the other end of the price spectrum we go with this ballerina ornament.
Designed in 2011 by the ornament department, the retail price is $99. It features a plain white ballerina, with her arms folded across her waist as if she we waiting. Noticeable are her gold ballet slippers, on which she is standing on toe.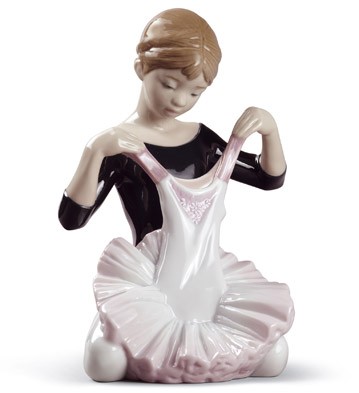 A recent piece designed in 2014 by Javier Molina is called My Debut Dress. The retail price is $300.
This figurine, about seven inches high, shows a young girl in a black leotard holding up her new pink outfit she will be wearing in front of friends and family. It depicts a feeling everyone in the world of ballet will relate to.
A related figuring by Molina is called Thinking of My Debut. Retailing for $285, it shows the same young ballerina on the floor stretching, but looking off to the side. She is wearing her black leotard and pink ballet slippers.
Between Thinking of My Debut and My Debut Dress, we prefer the My Debut Dress piece. But both will look nice together.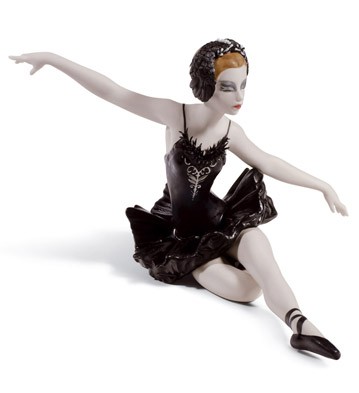 Mysterious Ballerina is the name of this limited edition piece. Only 1000 will be made and it was first released in 2011. The designer is José Luis Alvarez and it comes with a retail price of $1100. The figuring is only seven inches high so much of the price is based on its rarity.
Depicted in Mysterious Ballerina is a young woman in black. She has black slippers, a mostly black dress, and black head piece hiding her light brown hair. The "mystery" of the woman appears to be her eyes. Perhaps it would be more appropriately titled if she were wearing a mask, but her eyes are outlined in black makeup and that gives her quite the look.
As a contrast, her lips are thinly painted with bright red lipstick.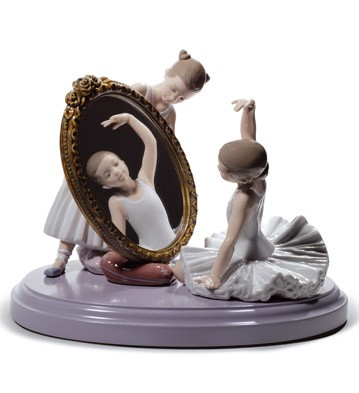 We like this piece called My Perfect Pose. It depicts two young ballerina friends. One is holding up a mirror help her friend see what she is doing so she can perfect her posing. The reflection in the mirror is quite remarkable.
The retail price is $960 and it was designed by Javier Molina in. The approximate dimensions of the piece are eight by ten inches.
In addition to the reflection, note the intricate detail of the gold frame for the mirror, and the detail of the pleats in the sitting ballerina's dress.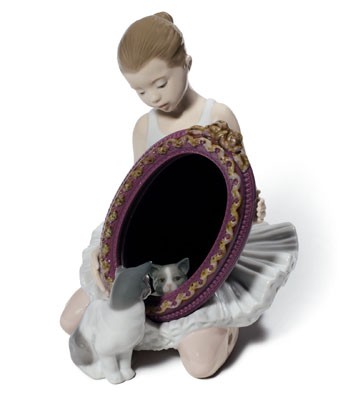 We almost didn't include this piece for this page about ballerina pieces, as the focus is more on the kitten than the ballerina. However, Lladro considers this is ballerina piece so we will include it.
Called A Purr-Fect Reflection, it retails for $525 and was designed in 2012 by Javier Molina.
It shows a very young ballerina holding up a mirror to her kitten, which is watching her reflection. It is a cute scene to be sure, and the reflection is well done in porcelain.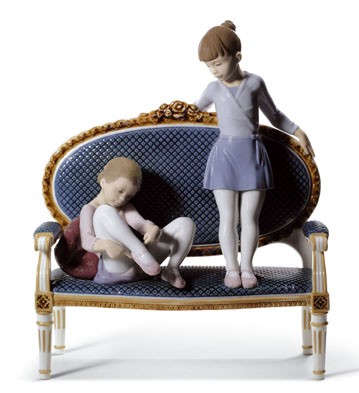 This fun piece is called Ready for Practice. It shows two young ballerinas on the love seat getting ready for ballet practice. One is standing up, ready to go. The other is struggling to put on her final slipper.
Check out the detail of the love seat. It is gold, blue and white, with intricate detail everywhere.
Ready for Practice is a limited edition piece with 3000 to be sold. It was first released in 2011 and is designed by Javier Molina. Lladro's retail price is $1230 and the piece is roughly eleven inches by nine inches in size.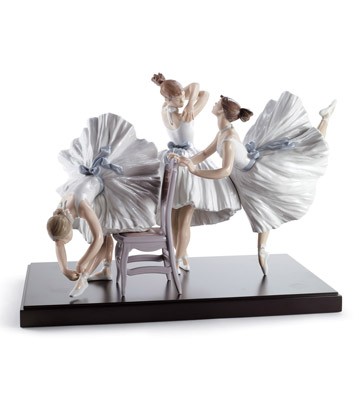 This fabulous piece of art is called Backstage Ballet. It shows three ballerinas in different poses getting ready to go on stage. The striking aspect of this piece is their outfits. In particular, the ruffles of their outfits which appear to be in motion.
Large, Backstage Ballet is fourteen inches high and nineteen inches in length.
It is a limited edition with only 2500 to be made. It was first released in 2010 and the sculptor is José Luis Santes. Lladro's retail price is $2800.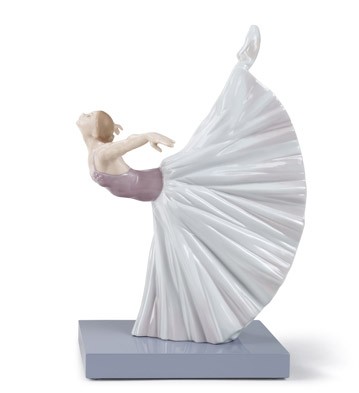 This Lladro is eleven inches high but only $550. Called Giselle Arabesque it makes a striking impression as the ballet dancer stretches out and displays her dress as a large fan.
We consider this a great Lladro deal.
Giselle Arabesque was first issued in 2009 and is designed by Javier Molina.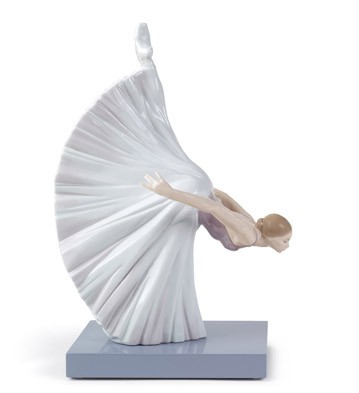 A related piece is Giselle Reverence. The pose is not the reverse image of Giselle Arabesque. In Giselle Reverence the ballet dancer is angled and looking down. Our preference is the Arabesque pose where she is angled up, but it may be a cultural preference.
This piece has the same striking effect as her dress is spread out as a fan. It also retails for $550 and was created by Javier Molina in 2009.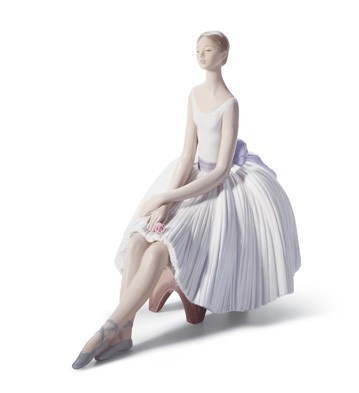 This plain ballerina piece from Miguel Angel Santaeulalia was made in 2006. It is called Refinement and shows a ballerina, sitting on a stool, with her hands and feet crossed and holding a pink flower.
It is not our favorite. The head seems small and the arms seem long. There is not much expression or passion being shown.
Lladro's retail price is $690 for a large piece measuring ten and one-quarter inches by eleven and one-half inches.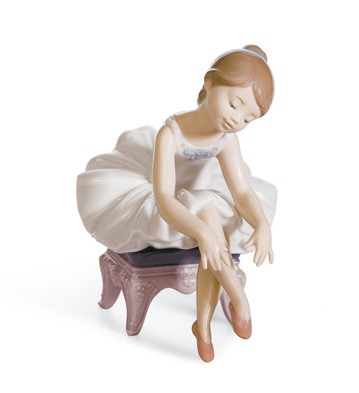 Little Ballerina I is the name of this figurine. It is only five by three inches, and hows a little girl sitting on a stool in our outfit, happily making a pose.
Created in 2005 by artist José Javier Malavia the retail value is $295.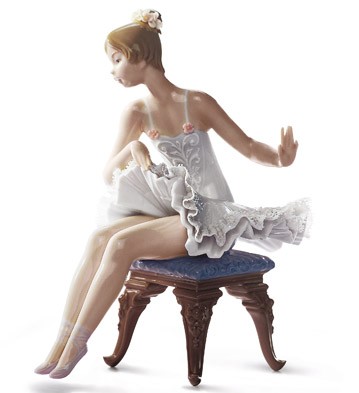 Recital is the name of this odd piece. It shows a ballet girl, with her left arm stretched out to the side, and with her arm the front of her ballet dress is lifted up in front to show about as much leg as one can go. She is looking off the to side at something.
Not our favorite piece.
Created in 1988 by Salvador Debón, it retails for $420 and is about six inches high.
Once you get beyond the odd look and uplift of her dress, the piece does have a lot of detail. There are flowers in her hair, two pink flowers on her detailed outfit, and the brown stool with a blue seat is intricate.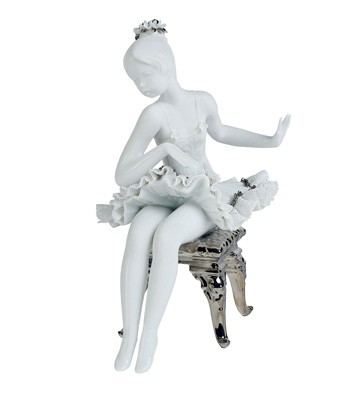 In 2007 Salvador Debón did a "re-deco" version of this piece. It is all in white with a silver chair, a silver hair piece, and a few small silver accessories on the hemline of the dress.
Although we are normally a fan of the re-deco pieces, not this one. It looks terrible. Buy maybe you disagree? The retail price is $435.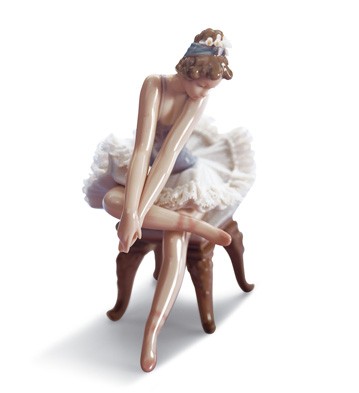 Opening Night, on the other hand, is a very nice piece. We only wish it were larger than the five inches for which it was designed by Salvador Debón. The list price is $420 and it was initially released in 1988.
Opening Night shows a ballerina getting ready to perform. She sitting, with legs crossed, and possibly reviewing her pink slipper. Her outfit is white and blue and this color scheme is continued with her head piece.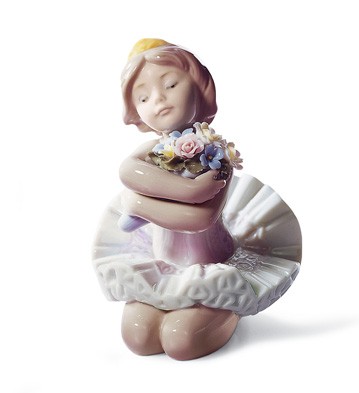 My Debut is the name of this figurine. It is less than five inches high but very colorful and well done. A young ballerina is shown holding a bouquet of blue, pink and white flowers. She is wearing a yellow head piece. She seems satisfied with her initial performance.
Miguel Angel Santaeulalia designed the figurine in 2000 and it has a retail price of $310.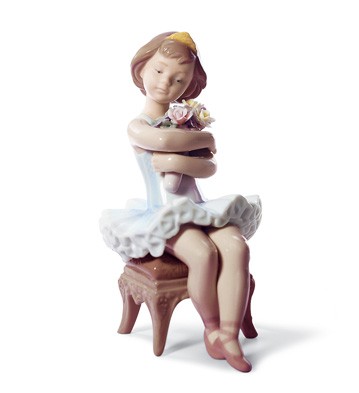 A year later in 2001, Miguel Angel Santaeulalia released virtually the same piece. This one is called First Performance. About six inches high and retailing for $385, it shows the same young ballerina as in My Debut, also holding her bouquet of flowers.
Perhaps there was something about My Debut which caused Lladro to slightly remake the figuring a year later as First Performance. They don't really go together, so you will want to choose between My Debut and First Performance.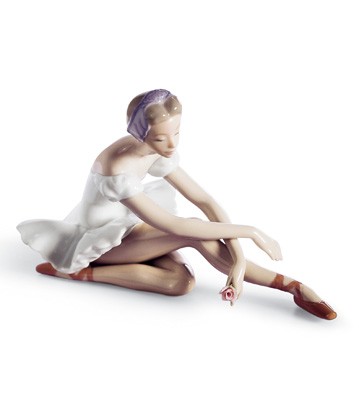 Rose Ballet is the name of this wonderful figurine. A lovely ballet dancer is shown contemplating a pink rose she holds in her hand. She is stretched out, as only ballet dancers would do. She is shown wearing a light purple head piece and an off the shoulder white dress.
Designed in 1992 by José Luis Alvarez, Rose Ballet is five inches, a little more than eight inches in length, and retails for $300.