Ho Ho Ho! A jolly ole Saint Nick from Lladro may be just what you need to brighten the holidays or to make a great Christmas gift.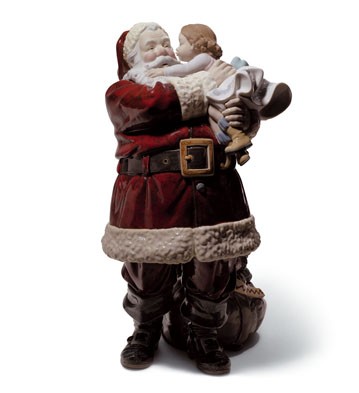 This fantastic Santa Claus is holding a young girl who wants to give him a loving kiss.
Very large at over twenty inches high, this is "Santa, I've Been Good" and has a limited edition run of only 2000 pieces. The original price was $3000 and the figurine can no longer be purchased directly from Lladro.
More information and product availability is on our Santa I've Been Good product page.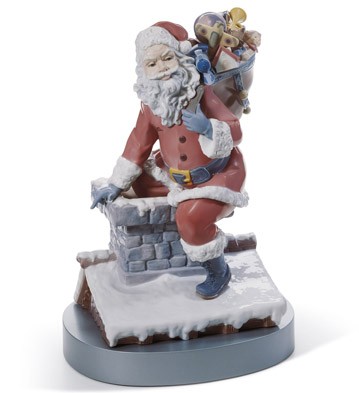 Down the Chimney is the name of this limited edition. Only 1500 figurines are made showing Santa getting ready to climb down the chimney with a bag of gifts.
One of the interesting features of this figurine, not necessarily obvious from a product picture, is the amount of intricate small detail. Fifteen different toys and gifts are identifiable in Santa's bag!
Our Down the Chimney buying page is here.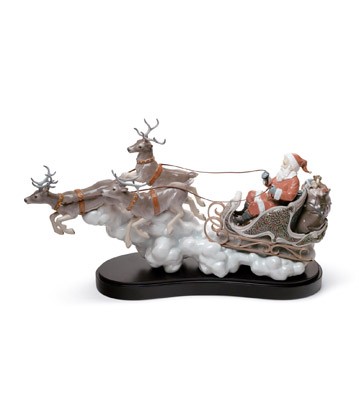 Another limited edition, this one is Santa's Midnight Ride.
Huge. Santa, his sleigh and reindeer flying through the clouds have a length of a little more than two feet. That's right – a two foot figurine. It is also a little more than a foot high.
If you want an impressive piece everyone will talk about and what to see brought out every Christmas, this is it.
More Santa related Lladro figurines:
Mrs. Santa Claus – Mrs. Santa is bringing out the goodies, and a furry friend is already having a Christmas snack!
Dear Santa – A precious young boy and his puppy are preparing their stockings for Santa. The dog is wonderfully cute.
Thank You Santa – Shown are two young girls adoring the new toys and gifts Santa has just brought them.
A Brushstroke of Dreams – A young elf at Santa's workshop is putting the finishing touches on a birdhouse. Everything has to be just right before Santa takes off on his midnight ride.
Santa's Busiest Hour – Shows Santa in his undershirt, checking the time, as he prepares to get ride for his busiest night of the year.
Christmas Journey – Santa is seen with a bag of gifts reviewing a globe as he plots his Christmas eve travels around the world.