Lladro has produced many figurines featuring man's favorite friend: the dog. These art pieces celebrate not only different dog breeds, but familiar and of often heart tugging emotional scenes people with pets are familiar with.
On this page we seek to catalog all Lladro pieces featuring dogs.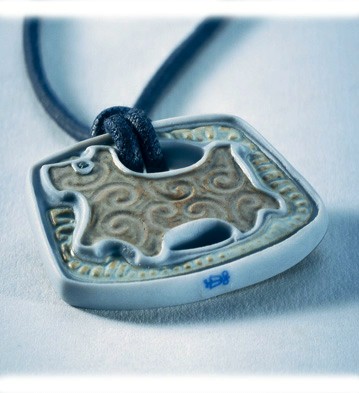 This dog pendant is smart sized at about one and one-half inches square in size. This is not your typical Lladro figurine. It comes from the company decoration department.
You will see the Chinese imprinted on the side for the Year of the Dog. A dog symbolizes loyalty.
First released in 2005, this product was retired in 2011.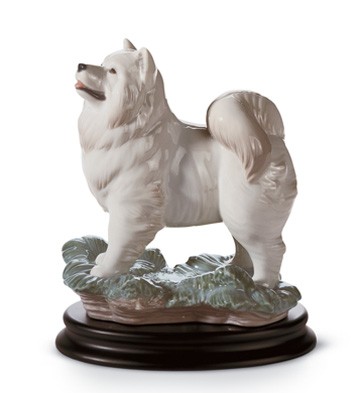 This cute white dog, with its pink tongue, was originally made in 2005 and it still actively produced. The dog is expecting something from the master it trusts.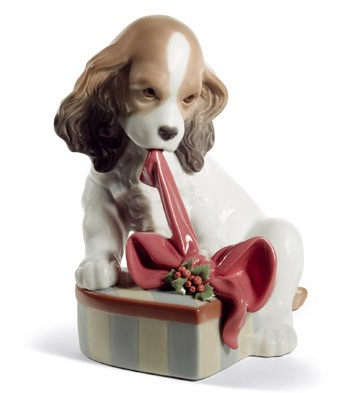 This is my dog on Christmas! The piece is called Can't Wait and it shows a dog working on getting a red ribbon off a present. The mistletoe next to the bow suggests this is a Christmas present.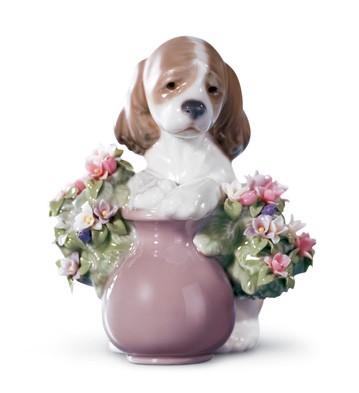 Take me Home is the title of this figurine, and how could you not! Talk about puppy dog eyes.
This is called Attentive Greyhound. Designed in 2011 this is the first of two similar greyhound pieces. If you like greyhound dogs these are for you. Otherwise – it is likely only for serious collectors.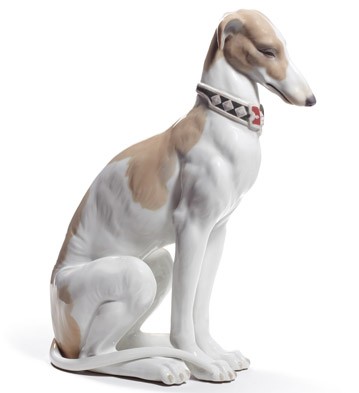 The second greyhound figurine, it is called Pensive Greyhound. This is not a popular dog breed and we currently do not know why it was chosen by Lladro for two different pieces.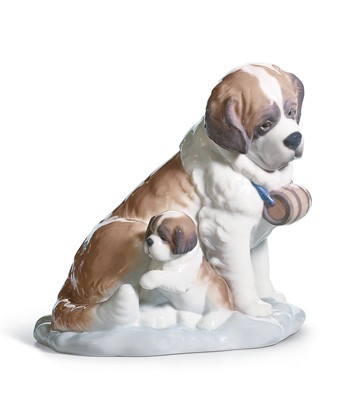 Baby Sitting is the name of this piece. It features a Saint Bernard, with a trademark rescue package around its neck, cuddly next to a baby pup ready to learn the ways of the world.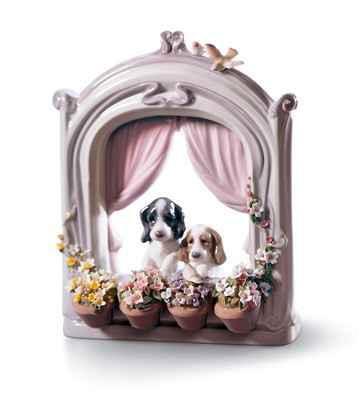 Awww! Please Come Home is the fitting name for this art piece. It depicts two dogs looking at the window waiting for their humans to come home.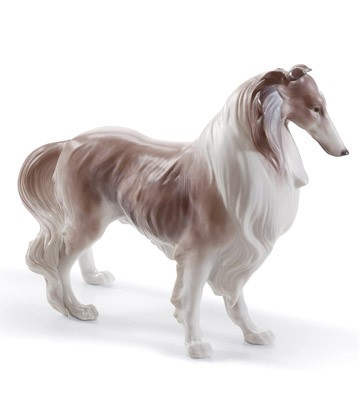 This is Shetland Sheepdog. It looks a bit like a collie, but is another dog breed featured by Lladro that is not ultra popular.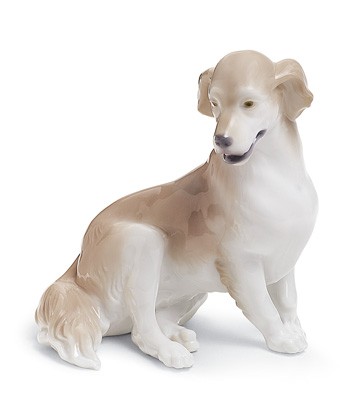 There is no doubt about the popularity of this dog, the golden retriever. This figurine probably looks like quite a few family pets.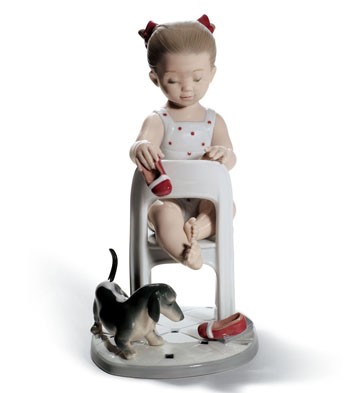 Fetch My Shoe is a whimsical piece. It shows a young girl having dropped her shoe. Do you think her puppy will be able to fetch it for her? Or will it take off with the shoe?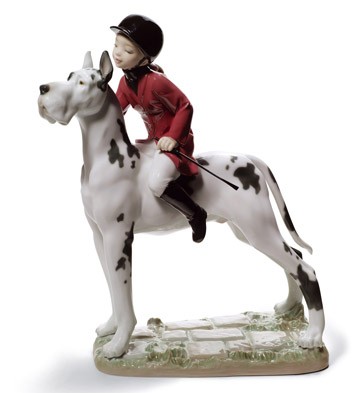 Only a Great Dane could be the subject of Giddy Up Dog. Did you ever wish you could ride your dog like a horse? This young jockey is ready to go, but they may have picked the wrong animal.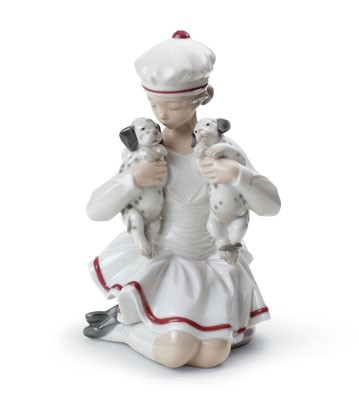 Two young dalmations are being held by this girl. They are white with black spots. She is wearing white trimmed in red.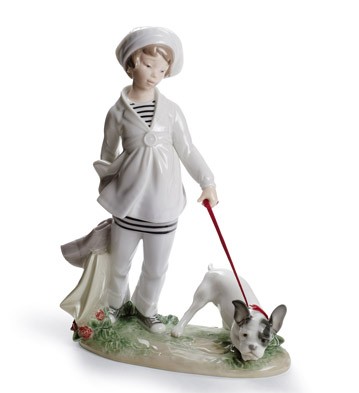 The title of this figurine, Girl With French Bulldog, accurately describes what this is all about. Our young miss is walking her dog, who of course is straining the leash trying to sniff out something new.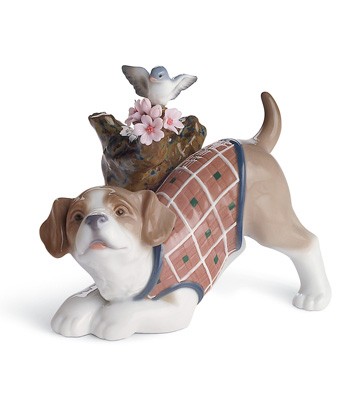 Blossoms for the Puppy shows a dog playing with a bird which is gathering flower blossoms.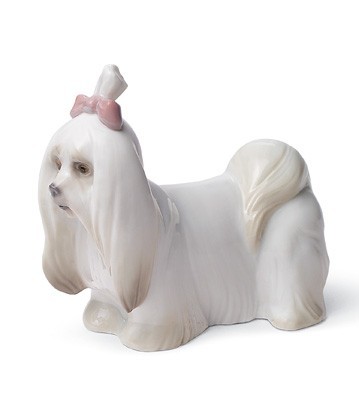 Simply called Maltese, that is the name of this dog breed. Lladro shows a very white and very hairy dog, with cute black eyes and nose poking out. In her hair is a pink bow to add some color.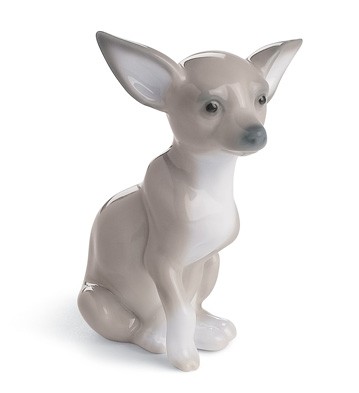 One of the most popular dogs, it is surprising it took Lladro until 2009 to issue a Chihuahua figurine. This one is small, like the dog, measuring in at just a little more than two inches in size.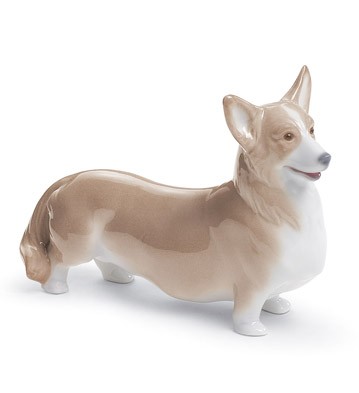 The Welsh Corgi Pembroke figurine. We do not imagine this is a big seller as the dog is a bit obscure.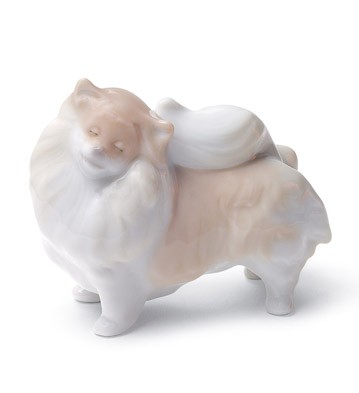 The Pomeranian figurine. If you have a pomeranian friend in your home, and love Lladros, this is a good combination.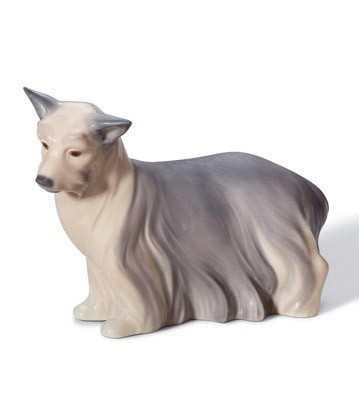 The Yorkshire Terrier figurine. There is a lot of hair on this dog, which is white and gray.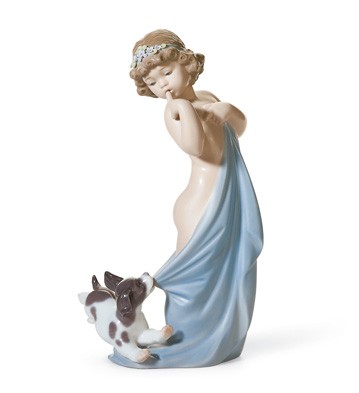 Naughty Puppy or just playful? Lladro decided Naughty Puppy should be the name of this figurine, as the young dog seeks to disrobe a young girl clutching a blue towel after a nice bath.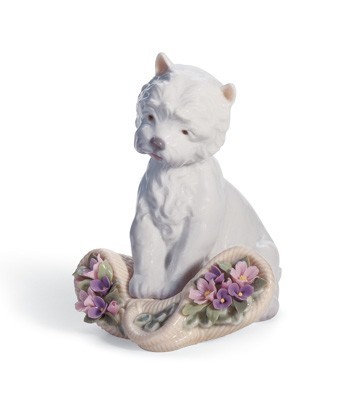 Playful Character is the name of this piece. This mischievous little dog is sitting on your basket of flowers, and you can't have them without first playing!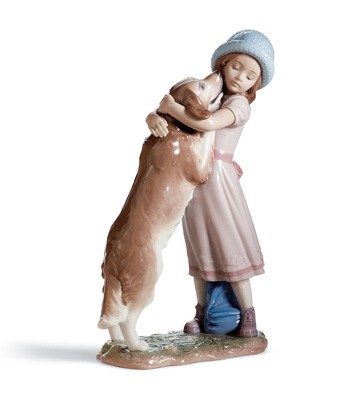 A warm welcome. A big warm slobbery welcome. Can an animal ever love you too much? Here a big, friendly dog welcomes home a young girl. It does not matter how long she has been gone, her dog always loves her and likes to see her come through the door.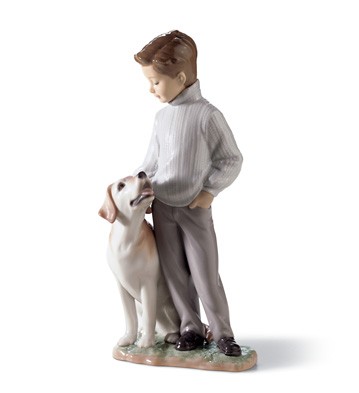 A boy's best friend is his most Loyal Friend, which is the name of this figurine. You can bet the two will grow up and enjoy many fun times together.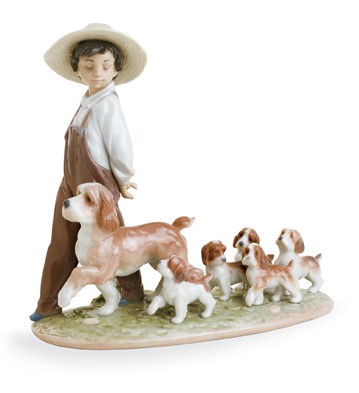 A boy and his dog. Err, dogs. Everyone is going for a walk and having a bit of fun.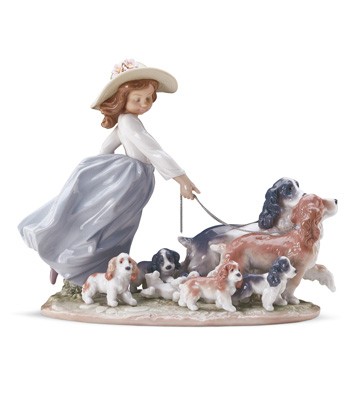 Charming. This figurine is titled Puppy Parade. It is probably the most expensive Lladro piece on this page relating to dogs with a retail price of $1150. A young girl is trying to walk two dogs at once. Her cocker spaniels, and a slew of puppies not on leashes. Good luck!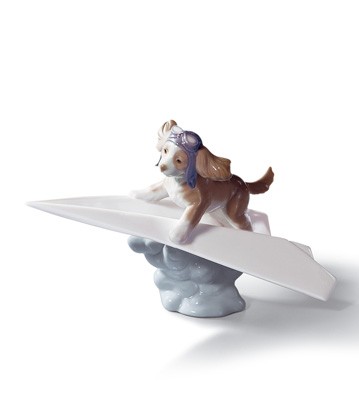 Let's Fly Away is an interesting piece. It features a dog wearing old-style flying goggles and riding a paper airplane. A most unusual piece for Lladro.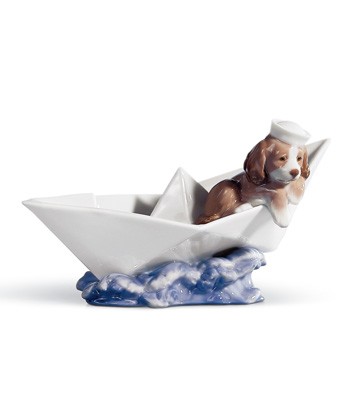 A related figurine, Little Stowaway, shows a cute sailor puppy looking out over the side of a paper boat. Beneath the boat you can see the crashing blue waves.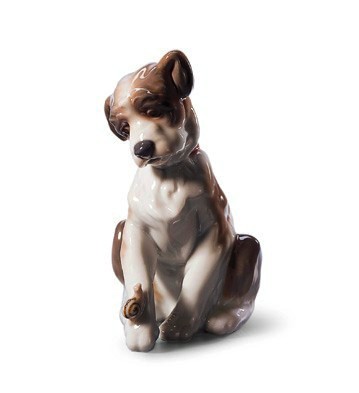 New Friend is the name of this figurine. It shows a new puppy home for the first time. A little bashful and unsure of himself and what his new surroundings will bring.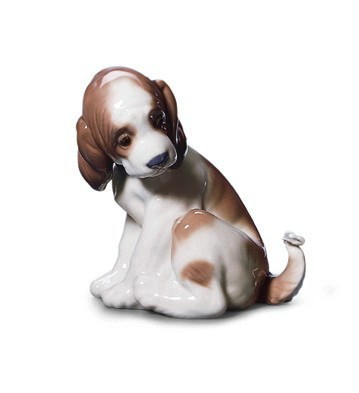 This piece is named Gentle Surprise. It shows a young dog looking at the end of his tail where a butterfly seems to have landed. What should he do about this situation?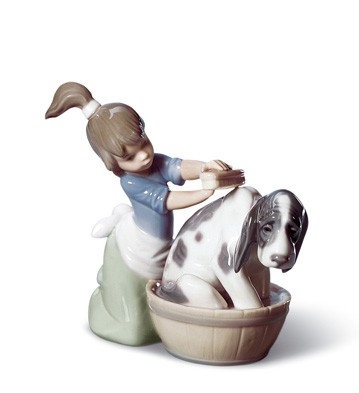 Bashful Bather is one of Lladro's longest running pieces that has not been retired. It was originally designed in 1988. The figurine shows bath time, which is not usually a dog's favorite event.