Lladro does not publish a "nativity set" although the company has made many figurines from which you can create your own set. Trying to collect every possible piece can get expensive fast.
There are a couple pieces, though, with the core figures which you can use as a basic nativity set. That is where we will start.
Basic Nativity Sets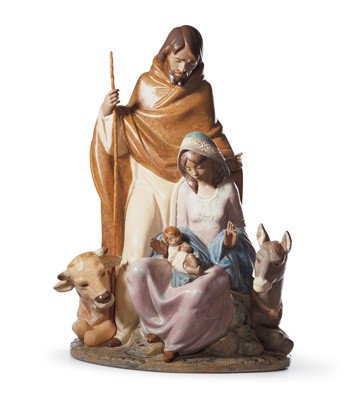 Joyful Event was designed in 1994 by sculptor Francisco Catalá. The retail price for this large piece is $1400. Large it is, standing fifteen inches in height and being ten inches wide.
Joyful Event depicts baby Jesus with Mary and Joseph. They are surrounded by farm animals a cow and donkey. Everyone is gazing upon the new baby born into the world.
This is Lladro product number 2293.
A year earlier Catala designed another, virtually identical piece also called Joyful Event. This is Lladro product number 6008: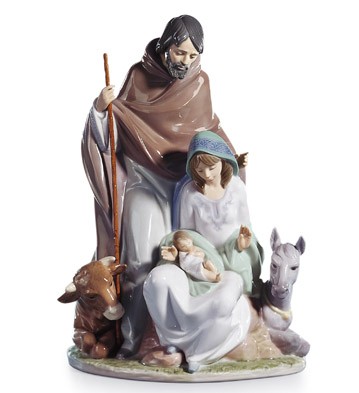 The primary differences are the 1993 version is a shade shorter (only half an inch) and the 1994 version is gres and the 1993 Joyful Event version is porcelain.
Although porcelain is much more common, especially for Lladro pieces, gres is also a ceramic like material, but with different texture.
We wouldn't worry about version you get, but if you are unsure, get the glazed porcelain most people are familiar with.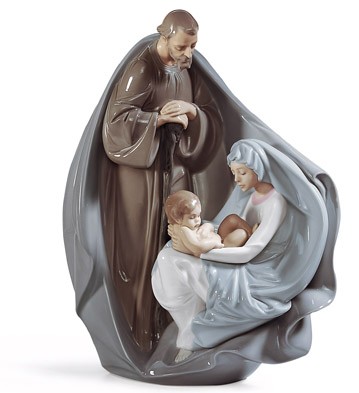 Birth of Jesus is the name of this similar piece. It is smaller than Joyful Event, measuring eleven inches high and eight and three-quarters in width. It is about two-thirds the size. The retail price is also less at $820.
Designed in 2003 by Juan Carlos Ferri Herrero, Birth of Jesus shows the new baby being adorned by Mary and Joseph.
The scene is enclosed in a grey cape, which is a little unusual.
Our preference is Joyful Event, but we like the animals the Joyful Event lends itself to having other pieces being added if you want. For the Birth of Jesus figurine you cannot do that because the cape would wall of the nativity scene from other pieces.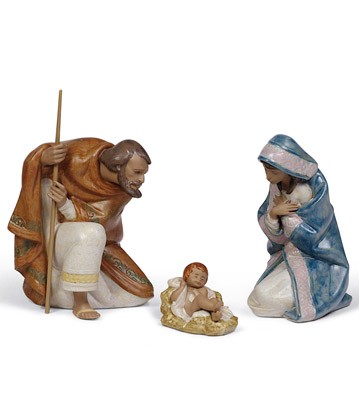 This set is called Silent Night. What you see, Lladro product 7805 is gres.
It retails for $810 and shows baby Jesus, Mary and Joseph as three separate figurines. Designed in 2002 by Juan Huerta, it has a little more color than the previous nativity sets. Mary is wearing a blue and pink shawl, and Joseph is dressed in a rust color.
Here is the glazed porcelain version of Silent Night: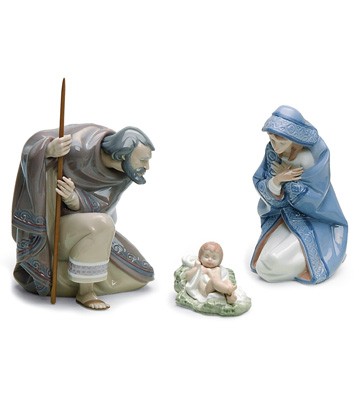 Slightly more expensive at $825, it shows the same nativity scene.
The highest height of the figurines is eight and three-quarter inches.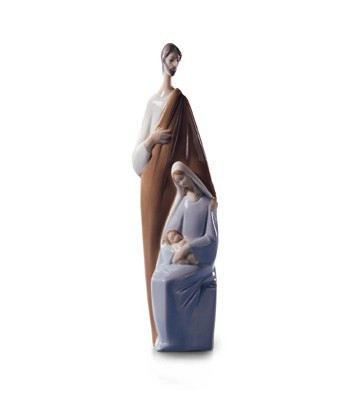 Finally, in our review of nativity scenes is this 1970 figurine designed by Fulgencio García.
Only $170 retail, this elongated art piece is not our style, and probably not what you are used to seeing from Lladro. It almost looks like a bowling pin.
The sculpture is eight and three-quarters inches high and only two and three-quarter inches wide. Mary and Joseph are shown with the baby Jesus in Mary's lap. Mary is dressed in blue and white. Joseph is in brown and white.
Artsy? Yes. This will depend on your taste.
Nativity Set Accessory Pieces
If you want to create your own nativity set then Lladro has many figurines to choose from.
It only makes sense to start with the Three Wise Men when it comes to nativity scene accessory pieces.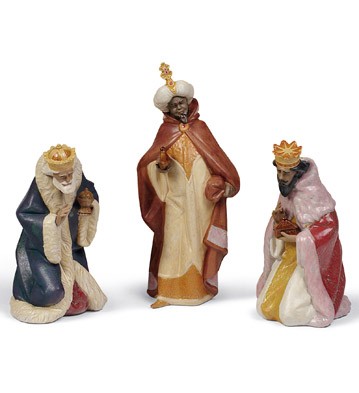 Designed by Juan Huerta in 2005, this is Lladro piece 7813. It is the gres version of the Three Wise Men.
A good size, the largest measures twelve and one-half inches in height.
Depicted, the three kings appear wise and powerful. Adorned in colorful robes and gold crowns, each bears a gift in one of their hands.
Each of the wise men appear to be looking down at the baby Jesus, so you will want to position them close to the baby in your scene.
The retail price is $1190.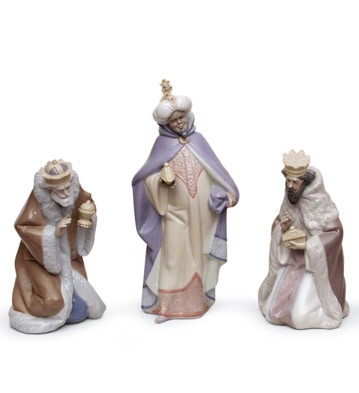 This is the glazed porcelain version of the Three Wise Men. Product number 7812 with a price barely above that of the gres version: $1200.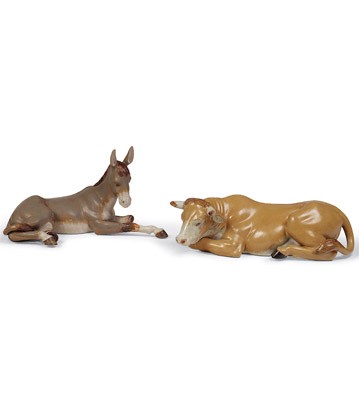 These farm animals are a set, showing a cow and donkey both laying down.
Created in 2005 by Juan Huera their retail price is $540. You can put these animals about anywhere in your scene. Shown is the gres version, number 7811.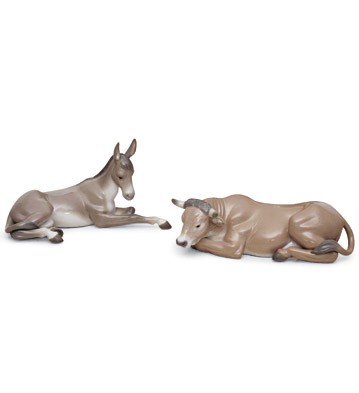 Here is the glazed porcelain version, number 7810, also designed in 2005 by Huerta. Interestingly, the retail price of $540 is the same as for the gres version of this animal set.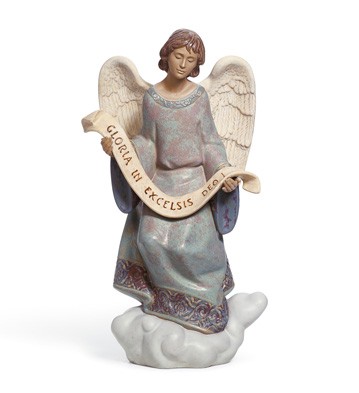 This angel is called Heavenly Message. It was designed in 2006 by Joan Coderch and retails for $655.
It stands slightly more than a foot high. Piece number 2499.
The banner the angel is holding reads: "Gloria in excelsis deo."
This version of Heavenly Message is the gres version.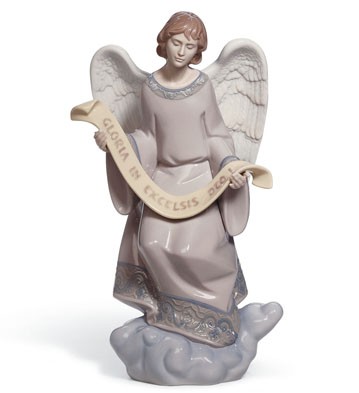 This is the glazed porcelain version. Everything about this piece is the same as for the gres version, except the material. Piece number 8261.
Note the fine detail of the angel. He is standing on a cloud. The top and bottom borders of his tunic both have intricate designs. His wings show numerous separate feathers.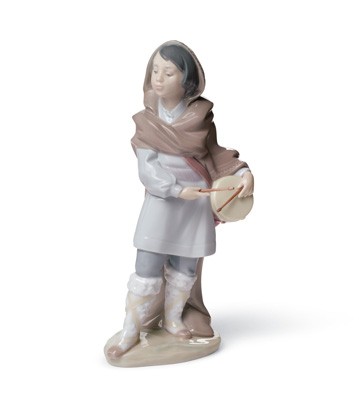 Drummer Boy is the name of this wonderful figurine.
Designed in 2009 by Francisco Polope, Lladro 8415 retails for $385. The piece is eight and three-quarter inches tall and shows a young, black haired boy with a drum.
Viewing this piece one may start to hear the Little Drummer Boy in their mind.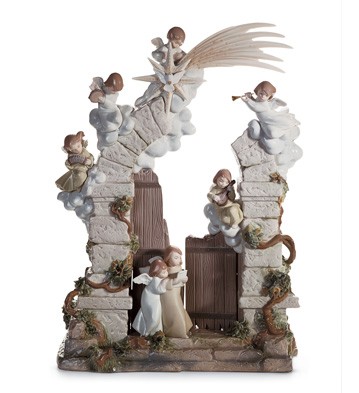 Stable in Bethlehem in the name of this large background piece. It is more than seventeen inches high and twelve inches wide.
Seven different angels can be seen on the broken stone arch and wooden gate. They are holding instruments to play music for the new baby.
Not surprisingly, this large piece retails for $2500. Stable of Bethlehem was designed in 2005 by Regino Torrijos. That is an artist you do not seen too many pieces from. This is a good one. Take another look at the detail of the stone steps at the bottom, the pitted stone arch, and the fine lines on the wood gate – which have vines growing around them.
This piece is quite expensive, but really makes the scene and can be combined with the other nativity accessory pieces.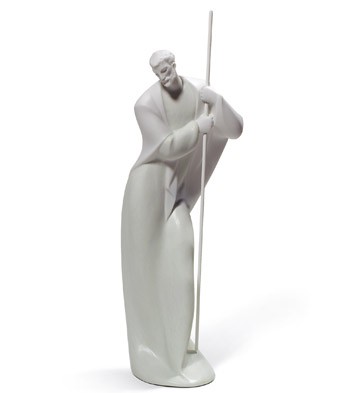 Now, for an entirely different look, a bit less traditional, this is Blessed Father. Lladro number 8588.
Standing thirteen inches high, Joseph is shown in pure white leaning on his staff and looking down. Placed correctly, he would be looking down at the baby Jesus.
Designed by artist José Luis Santes in 2011, the retail price is only $270 for piece number 8588. That price is far less expensive than other Lladro pieces of this size. But it reflects the simplicity of the piece which does not have much detail. It looks like a sculpture made from stone.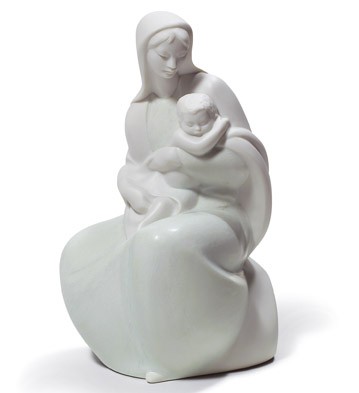 Not surprisingly, Blessed Father has a companion piece named Blessed Mother with Jesus. Also similarly designed in 2011 by José Luis Santes, the retail price is $195 for piece 8587.
The Blessed Mother is kneeling and thus a smaller piece, only six and one quarter inches tall.
As with Joseph, Mary and Jesus are all white, with little detail.