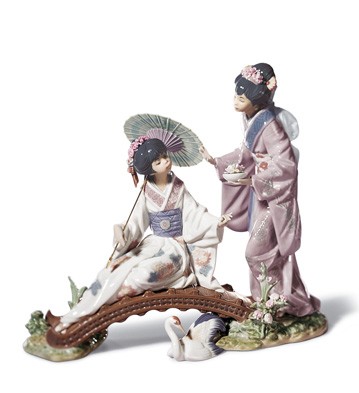 Springtime in Japan is one of the more popular Lladro figurines. It is one of the more actively traded pieces according to the Lladro database
And no wonder – Springtime in Japan has been made since 1983. It is one of the longest running Lladro pieces.
The original artist was Salvador Debón. The retail price is $2550 if you buy direct from Lladro in Spain. Using the Lladro database you will be able to buy it for much less. The artwork is large measuring about thirteen inches wide and fourteen inches in height. It is impressive.
Springtime in Japan features two Japanese women in traditional garments. They are wearing kimonos and one is holding a parasol. They are found on a small, arced Japanese bridge over a small stream where a swan is swimming. Spring greenery abounds and the women have flowers in their hair.
Spring is a festive time of the year in Japan, and a time for cherry blossoms. They usually flower in force around April. The Japanese word for cherry blossoms in sakura. The blossoms are so revered weather reporters not only talk about the local temperature, but also how many cherry blossoms are in bloom. These reports follow the bloom of flowers are they advance north in the country. It is a popular event dating back centuries for the Japanese.
There is a cherry blossom season, trees with blossoms are found everywhere, such as outside schools, and can be found everywhere in Japan. If a foreigner is visiting they wonder what all the fuss is about. All they need to know is that spring time in Japan, and the blossoming of cherry blossoms, is an important event.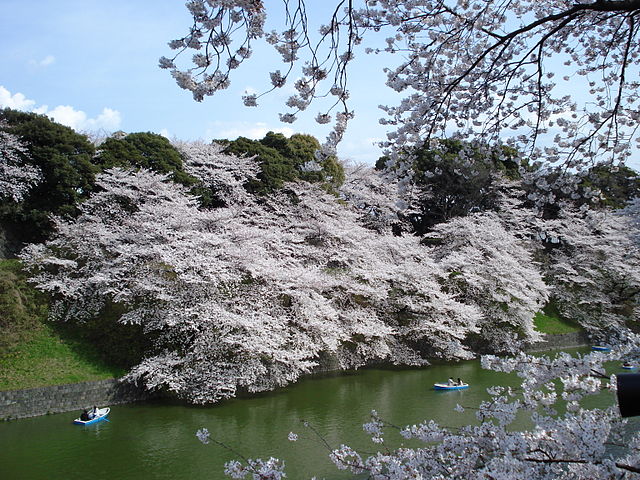 This large canopy of cherry blossoms can be found at the Imperial Palace in Tokyo. For size, note how comparatively small the boats and people are by comparison.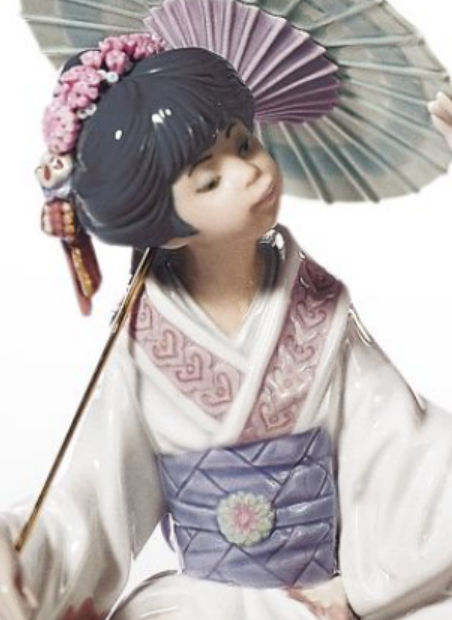 Here is a close up view of one of the geisha women in the Lladro piece. Now you can see the intricate Lladro artistry. The fine detail of her kimono includes detailed lavender heart shapes on her collar. The sash belt around her waist has a detailed purple design, with a green and pink flower in middle. In her hair you can see an array of cherry blossoms. Here parasol has bands of different colors.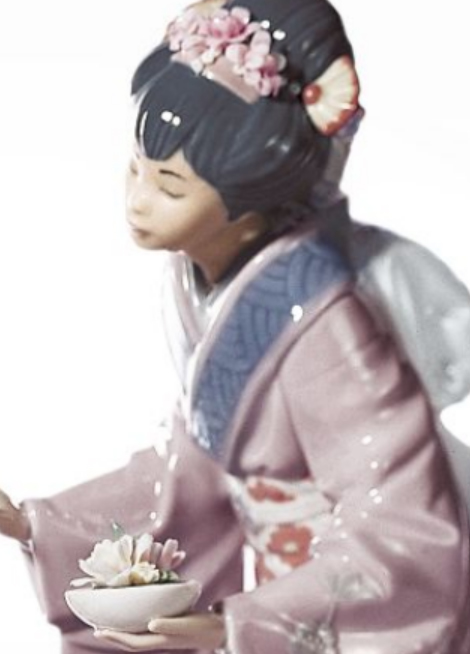 The other girl is wearing a light pink kimono. In her left hand she is holding a white bowl full of cherry blossoms. More blossoms adorn a headband in her hair. More flowers are on her outfit and her collar has an intricate design.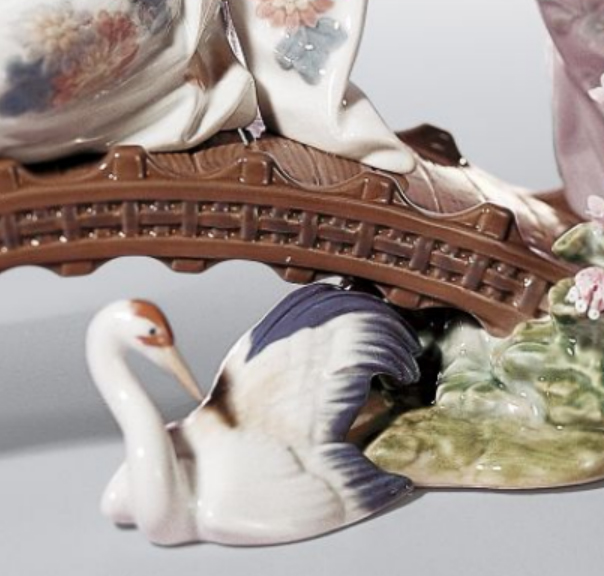 At the bottom of the figurine is a low arched with a swan underneath. In this close up view you can see the intricate detail of the brown bridge. In addition to the lattice artwork in the side, the boards appear to be made of wood. Below is the bird with feathers.
If you look closely at the top you can see the lower portion of a kimono and the small, detailed flowers of different colors that are on it. To the right is the greenery coming to life during the spring.
Overall, Springtime in Japan is wondrous piece of art. No wonder it is so popular and has been produced for so many years!
On our Springtime in Japan LLadro database page you will find listings of this piece currently available to be purchased today. Availability changes daily, so either buy now or check back to see if anything is new. And of course you also get the Lladro databases exclusive catalog of prior sales to compare prices to make sure you are getting a fair price for your art.
.